Nebraska free public records availability was given to citizens in 1966. The Nebraska Revised Statutes § 84-712-712.09 have since been updated to include a clarification of rights to remove any question as to the freedom of information and documentation.1
Many avenues to search free Nebraska state records are available on the internet and in-person at local government locations. Using the links and information below, individuals can begin their search of finding anyone for free. If the following resources do not return the results needed and the information in question is public, other search options are recommended.
Nebraska's Public Record Laws
In 1967, the United States Federal Government gave the country accessibility to most federal records through the Freedom of Information Act (FOIA). This statute gave requestors the ability to search and procure copies of information but does have exclusions.2
Like the Federal Government's, Nebraska's Public Record Statutes look to allow the populous access to documentation including, but not limited to, criminal records, court records, inmate records, and vital records. The list of excluded Nebraska state records can be found in Nebraska Revised Statutes § 84-712.05, but common exceptions to this statute include some of the following:1
Student records
Medical records (birth and death certificates are not included in this exception)
Private details of a business, company, or individual that are not necessary knowledge to the public
Details of ongoing court proceedings
Details of open police investigations
Personal details of victims of sex crimes
Negotiation information, including an appraisal, of a property before the sale is complete
Sealed court records (which includes records of minors)
Expunged records
A portion of public records, although searchable by all, limit access to distribution of official documentation. Birth certificates, death certificates, and marriage licenses, are examples of such and require relational proof.3
Nebraska has a large public records repository. Many agencies that house this data offer a free online directory function on their website; unfortunately, due to the state being split into 93 counties and 895 cities, searching these records may not be a straightforward task.
Some third-party websites have the ability to search across the state, removing the need to know the particular jurisdiction, government agency, court or jail type, etc. Although these sites could charge a fee for a rapid and convenient search, it is beneficial to remember that many government resources often have an associated cost with less ease of use.
Nebraska Criminal Records: An Overview
Nebraska criminal records resources include moving and parking violations, misdemeanors, and felony records, each handled by a particular court.4 Locating this data may be imperative in decision-making for potential employers, domestic partners, property owners, etc.
Does the Public Have Access to Criminal Records in Nebraska?
Nebraska gives the public the right of access to a majority of criminal records through the state legislature's statutes regarding Nebraska public records. However, Nebraska Revised Statute 29-3523 does grant the following exceptions and does not provide information to the public when:5
An arrest results in no charges and one year has passed.
An arrest results in unfiled charges due to a diversion plan and two years have passed.
An arrest results in filed charges but is subsequently dismissed through a hearing or through the prosecutor. In this case, records will be immediately removed from public access.
In addition to the circumstances listed directly above, as previously mentioned, juvenile records and identities of sexual crime victims are protected from release to the public as well.
How to Find Criminal Records (Nebraska)
Nebraska public criminal records searches will result in a report which includes details of arrests of adult parties in question where the subject was fingerprinted. To find out if someone was arrested/is in jail in the state of Nebraska, those results will not show on the Nebraska criminal record.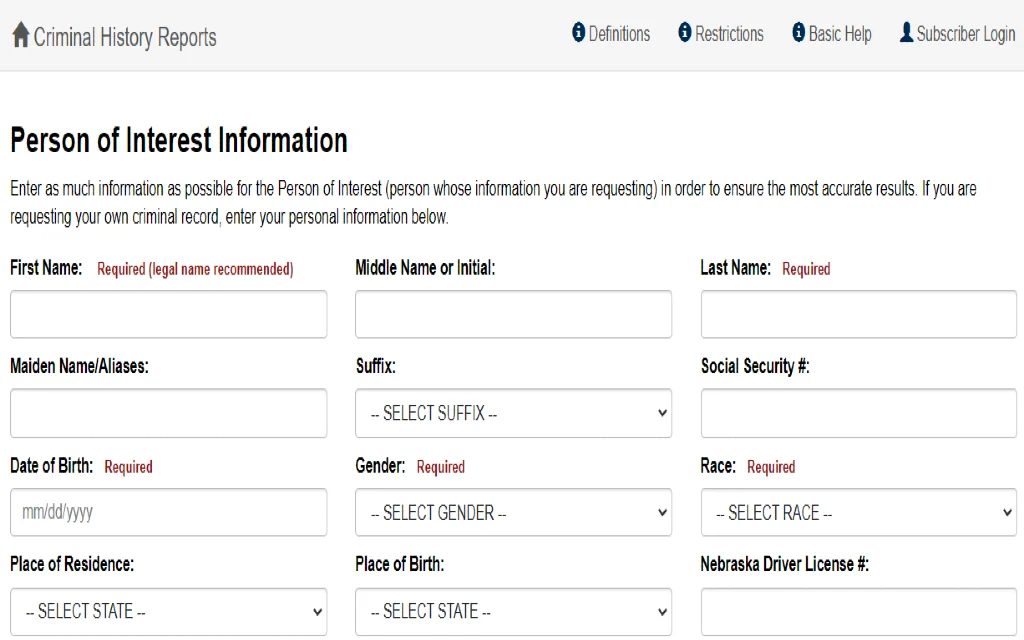 Because criminal records in Nebraska, for the most part, are public records, there are several avenues available to locate the information needed. These resources include
Statewide and local law enforcement, offer online, mail, and in-person services.
The Nebraska Sex Offender Registry online search.
The Nebraska Judicial Branch JUSTICE Search.
Onsite or mail inquiry of court records from Nebraska courts.
Third-party/private background checks.
The Nebraska State Patrol offers three different avenues in which to request a RAP sheet (Record of Arrest and Prosecution). An online report can be requested by anyone through the Criminal History Reports webpage, which is located on the Official Nebraska Government Website but managed by the Nebraska State Patrol. Regardless of the results, a $15.50 fee is charged per subject search. The information required to perform the search is:
First name
Last name
Birth date
Race
Sex
Additional information, such as a social security number, is suggested to ensure accurate and speedy results.5
Two types of records can be requested through this form; criminal history which, is public information, or a complete record of criminal history. A complete record of criminal history requires notarized proof of the subject's signature releasing the complete record.5
Additionally, a request for criminal records can be made by any individual by using the Nebraska State Patrol Criminal History Record Request form. Along with cash, personal check, certified check, or money order, this form can be mailed to:
Nebraska State Patrol
Criminal Identification Division
PO Box 94907
Lincoln, NE 68509
Or delivered in-person Monday through Friday between the hours of 8:00 am and 5:00 pm (excluding state holidays) to:
Investigative Service Center
Criminal Identification Division
4600 Innovation Dr
Lincoln, NE 68521
The typical timeframe to receive the results of the record search is 3 business days from the date of request. However, per the Nebraska State Patrol website's Criminal History Record Request's page, the turnaround time could be higher due to the number of recent requests.5
The sex offender search, Justice search, Nebraska court records, and third-party background checks are also viable ways to look up someone's criminal records as well as the prior outline on how to check public records. Specifics on each of these can be found below.
Locate Mugshots in Nebraska & Find Criminals Photos
There are several ways to begin to locate mugshots or criminals' photos in Nebraska.
Mugshots are included in paid criminal history records requests from the Nebraska State Patrol, on the Nebraska Sex Offender Registry website for no cost, on the Nebraska Department of Correctional Services website for free at no cost, and linked on the limited city or county jail websites, and on third-party sites, typically for a small fee.
Finding mugshots on the Nebraska Sex Offender Registry requires a first or last name, location, or region. To search by name, simply click on the Search by Name button and enter the subject's first or last name. A list of names matching the search will appear with related photos. To see details associated with the name and mugshot, click on View Details.6
Once in the details section for the offender, additional mugshots and images may be available:
The Nebraska Department of Correctional Services includes mugshots with public inmate records, which are searchable online through the Incarceration Records webpage.7 Searching requires the last name or Department of Correction Services ID Number.
A list of results including name, sex, date of birth, status, facility, and race will populate. Click on the desired entry to view incarceration information, including inmate release date, and mugshot.
If an individual is trying to pinpoint a search to a specific city or county, a google search of the city or county jail can lead to results.
For instance, a search with the keywords "Keith County Nebraska Jail" will lead to the Keith County Jail webpage on the Keith County Nebraska website. This webpage then links to North Platte Post's Hot Sheets page which is a daily compilation of mugshots from Lincoln County Jail, Keith County Jail, and Buffalo County Jail.8
For a full list of county inmate rosters, contact information, and other ways to find out if someone has a criminal history, view our Nebraska criminal and arrest records guide.
Nebraska Juvenile Records – Who Can Access Them?
Most juvenile records are sealed by the court, assuming the defendant was under 18 at the time the charged event occurred. These sealed documents are not available to the public. The exception to this rule is if the case was a felony heard in a district court, not a juvenile court. If this is the case, court records can be accessed like all other court documents in the State of Nebraska.9
Records sealed by the courts are only viewable by the individual, those authorized by the individual, law enforcement, and a few others allowed by Nebraska Revised Statute § 43-2,108.05.10
Nebraska Warrant Checker – Check Yourself & Others
A warrant, as defined in Nebraska Revised Statute § 29-403, is issued by a county or district judge and allows for the arrest of an individual charged with a crime.11

Some states have a statewide warrant search, but this is not the case for Nebraska. There are, however, ways an individual can find out if there is a warrant out for themselves or others. Because the aforementioned criminal record search provided by the Nebraska State Patrol only shows results of those arrested and fingerprinted, active warrants will not show in this search.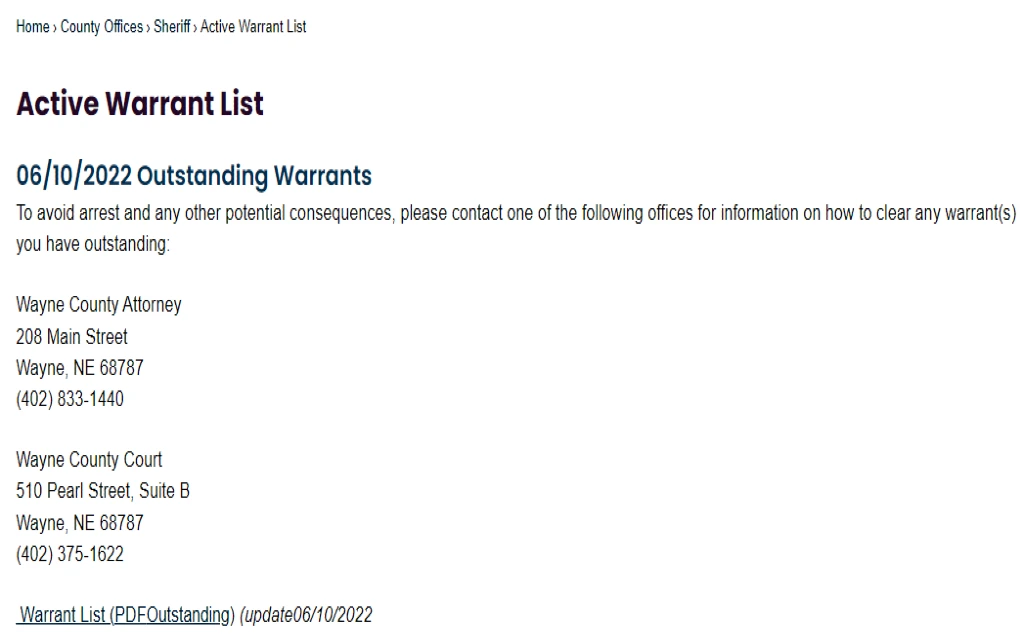 If the city or county where the warrant was issued is known, a Google search for the related sheriff's office will lead to the connected website, if one exists. A keyword search of "Hall County Nebraska warrant" results in the Hall County Outstanding Arrest Warrants webpage.12
According to the website, the warrant list is updated every hour and the search function can utilize the first or last name. Once a name is entered, a list of results is populated, and subsequent details can be viewed.
If a county does not host an interactive warrant search, the next course of action would be to find the phone number and address of the sheriff's office in the county the warrant was issued. A search engine inquiry for "Wayne County Nebraska warrant" results in the Wayne County Nebraska Active Warrant List page.13
This site includes the contact information on who to speak to regarding warrants as well as a PDF document with a list of outstanding warrants which is updated on a relatively normal basis.
If the location details needed to search an active warrant are not accessible and/or results are needed rapidly, a third-party or private website search might be something to consider.
How to Find a Sex Offender in Nebraska Using the Registry
On January 1, 1997, the Nebraska Sex Offender Registration Act was enacted. The Nebraska Legislature began requiring all sex offenders to be registered with law enforcement because the risk of reoffending is high.14
The State of Nebraska has provided a straightforward website to enable citizens full access to the sex offenders in the state. The Nebraska Sex Offender Registry. An offender is searchable by:
First or last name
Region; this includes zip code, city, or county
Location; a radius search can be conducted and will find an offender within a one, two, or three-mile radius of a specific address
Results of the offender search include details such as a mugshot, birthdate, physical description, length of required registration, and the sex crime in which they were convicted.
An additional feature provided by the Registry is the ability to be notified by email if any notices are released regarding a specific offender. The "Notify Me" button, located under the offender's mugshot, will lead to a place to input the email of the affected party.15
Background Checks in Nebraska (The Ins and Outs)
Background checks, like criminal record checks, can be important when evaluating potential employees, tenants, business partners, etc. Depending on the source, a background check can include residential history, driving records, if someone has a criminal record, educational background, and past employment. Not all resources will show this information in one place.
Nebraska Background Check on the Nebraska Government Website is a dedicated webpage that links interested parties to services provided by separate government agencies in Nebraska.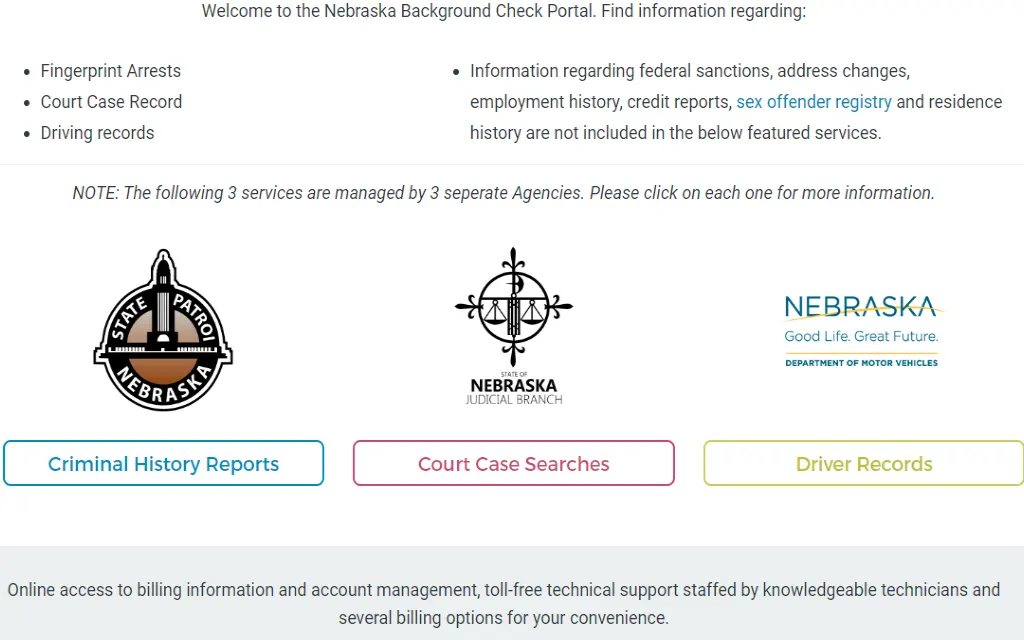 Access to Nebraska criminal reports through the State Patrol of Nebraska was earlier described in depth. If a criminal background report is needed, anyone can request this information online, in-person, or by mail for $15.50. Please note, that this report is strictly a criminal Record of Arrest and Prosecution and does not include citation-based violations.16
A court case search can uncover pertinent information when looking into the background of an individual. The link provided above leads to the JUSTICE search, which was briefly touched on earlier. This service costs $15 per search and access to search results is limited to three days.
An online driving record search has been made available by the Nebraska Department of Motor Vehicles for a fee of $7.50. The same information can be obtained by mailing the Application for Copy of Driving Record with a check for $7.50 to the Nebraska DMV address.
Driving records are only to be released if the subject of the search has authorized its release or one of the exceptions permitted in the Uniform Motor Vehicle Records Disclosure Act.17
If these three avenues provided by the State of Nebraska do not provide the information or documentation needed, the next step could be to employ a private site that pulls the desired information into a compiled report for one fee.
Nebraska Court Records
Nebraska state courts are separated into 6 types: county courts, district courts, Court of Appeals, the Supreme Court, juvenile courts, and workers' compensation court.18
County Courts: are trial courts, have a limited scope of authority, and handle most cases that involve misdemeanors for crime, traffic violations, probate, small claims, most juvenile cases, etc.
District Courts: are also trial courts, that handle the majority of civil and criminal cases.
The Court of Appeals: is the first layer that most cases must go through when entering the appeal process.
The Supreme Court: is the destination for appeals that require a further review after being heard at the Court of Appeals level. The exception to this is if the case involves a life sentence, death penalty, or a constitutional question.
Workers' Compensation courts: deal with all cases in relation to the Nebraska Workers' Compensation Act. The seven judges who preside over this court have jurisdiction over all of Nebraska.
The remaining juvenile cases in Nebraska are conducted in specific juvenile courts which only serve the counties of Sarpy, Lancaster, and Douglas. The juvenile courts deal with most cases which include minors.
Nebraska houses one federal court, the United States District Court of the District of Nebraska. This court hears civil and criminal cases which involve federal law or involve parties from multiple states as well as bankruptcies.19
Sealed court records (which include juvenile court records), details of ongoing court proceedings, and personal details of victims of sex crimes will not be released, but all other court records are public information and access is made available to any inquiring party (potentially for a fee.)
Public court records contain party information, criminal or civil allegations, case details, testimonies and depositions, and trial outcomes and verdicts.
How Can I Search Court Records in Nebraska?
Nebraska has set up clear avenues in which to access court records. For state-run courts, JUSTICE search is provided for a one-time search of trial court records, a subscriber service for bulk trial court searches, and for appellate cases. Federal court records are searchable through the PACER site.
The JUSTICE search is a one-time search option that costs $15 per search. The subscriber service starts at $100 per year per subscriber, with a $1 per search. The PACER site is $30 per search with a $.10 per document charge.
Access to paper copies of these records can be requested in person or by mail at corresponding courthouses.
Search Nebraska Bankruptcy Records
Searching Nebraska bankruptcy records is identical to searching federal court cases because they are both managed by the United States District Court of the District of Nebraska. Thus, PACER allows access to most bankruptcy proceedings.
Access to paper copies of these records can be requested by mail, phone, or email. The court will respond back to the request with the fee amount.20
Roman L. Hruska
United States Courthouse
111 South 18th Plaza, Suite 1125
Omaha, NE  68102
Phone (402)-661-7444
[email protected]
For archived bankruptcy cases, the county clerk in Omaha can be contacted by phone at:
Or the county clerk in Lincoln can be reached at:
Closed bankruptcy cases can also be found on the National Archives Court Records page.
Inmate Records of Nebraska
Searching inmate records can be of personal interest to many. Whether it be a relative, a loved one, or an individual involved in a conflict, many inmate records are public and the details in those records can be helpful in planning to visit an inmate, send money to inmates or other mail, or simply to have the peace of mind that a person is incarcerated.
Examples of things that can be learned from inmate records are:
The start date of incarceration
The crime the individual was charged with
The status and term of jail or prison stay
Location
Parole Information
Because minors' records are sealed, finding a juvenile inmate, if not a direct relation or legal representation, the likelihood of finding juvenile inmate records is very small, if not impossible, regardless of whether they have been charged with a crime.
How to See if Someone Was Arrested – Find Nebraska Jail Inmates
When arrested, most subjects are held in a city or county jail. Unfortunately, there is no overarching search function provided by the State of Nebraska that holds real-time arrest data.
Each city and county jail is operated individually.
To begin searching for jail inmates and find recent arrests, a Google search, including the county in question, should bring up a website to the jail or sheriff's office.
The Sarpy County website does have an Arrest Records feature that allows a user to search by current inmates. Each of the inmate details can then be maximized and lists additional information.
A city or county website may only list a phone number and address for the jail and how to get jail paperwork, which would mean the best course of action would be to contact the jail directly for inmate information.
If little information comes up when searched, private websites are available that can compile arrest records in Nebraska and across the country in a very short time frame. A fee is almost always charged, but if the results are needed quickly, this may be a good option.
How to Find Prisoners in State and Federal Correctional Facilities
Prison background checks in Nebraska state and federal facilities are an easier task. Inmate information is housed in a database for each type of facility, and both are searchable online.
The Nebraska Department of Correctional Services has an Incarcerations Records page, as previously mentioned. Using the search feature can lead to the subject in question. The subsequent record will then list their facility location along with details such as sentence length, offense information, and parole details.
Additionally, the Federal Bureau of Prisons offers the Find an Inmate page for the whole of the United States and even though there's not a federal facility in Nebraska, federal offenders could be shipped elsewhere so it's always worth checking. Information can be found regarding prisoner location, term of incarceration, offense, plus additional details. A First and Last name is all that is needed to search the inmate records, but other search types are available, such as Bureau of Prisons Record Number.
Vital Records Information – Nebraska Free Marriage Records & Free Divorce Records
Free Nebraska vital records include birth and death registrations, marriage certificates, and divorces assuming each even occurs in Nebraska. To demonstrate the amount of of vital records available, the image below shows the divorce rates in Nebraska counties from the past 5 years.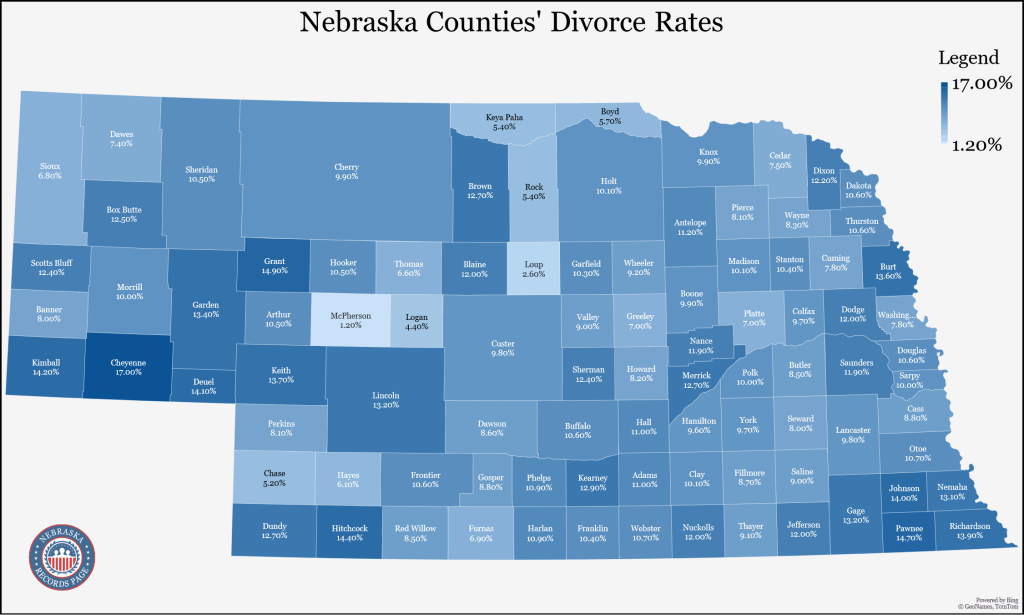 Obtaining vital records can be crucial when applying or renewing a driver's license, ordering or renewing a passport, changing names on legal documents, trying to find out if someone is married, etc. Much of the government will not provide service to citizens without official documentation, which is why vital record access is important.
Can I Look Up Anyone's Vital Records in Nebraska?
Nebraska public record laws allow for the public to view birth, death, marriage, and divorce documentation through the Nebraska Administrative Code, which answers the question of "Are marriage records public" and the availability of public divorce records. These documents can be viewed during normal business hours at the Department of Vital Statistics:21
Nebraska State Office Building
301 Centennial Mall South
First Floor
Lincoln, NE 68508
Where Can I Get a Copy of Vital Records Certificates in Nebraska?
Copies of vital records in Nebraska are provided in the form of a certified copy. Obtaining a certified certificate of birth, death, marriage, or divorce, is outlined on the Nebraska Vital Records webpage.
A singular page was created by the Department of Vital Records which allows individuals, with proper proof, to obtain the following records online: birth certificate/certificate of birth, birth resulting in stillbirth, death certificate/certificate of death, marriage certificate, and divorce certificate.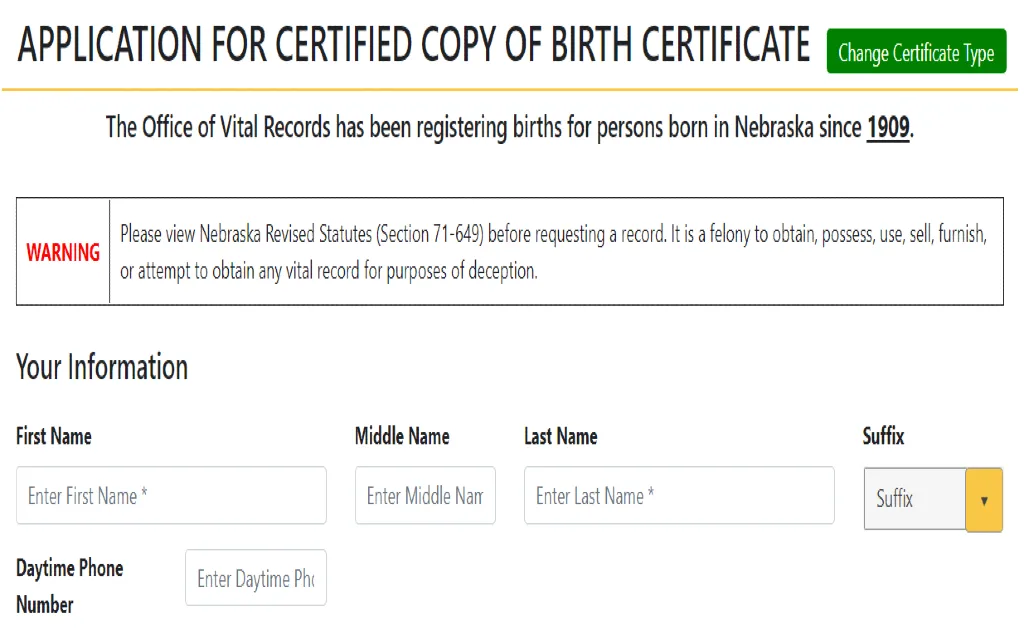 For example, when the birth certificate request is selected, a blank information form is loaded.
At the bottom of the initial form, a place to upload a government ID is provided. Once loaded, the applicant can proceed in filling out the remainder of the form.
Each record has an associated fee. Birth certificates and Stillbirth certificates are $17.00, while death, marriage, and dissolution of marriage certificates are $16.
These records can also be requested by mail. The mail-in request must include the corresponding form which can be found on the Vital Records site along with a check or money order. The request can be mailed to:
Nebraska Vital Records
P.O. Box 95065
Lincoln, NE 68509
Requests for Nebraska public records, which include some items above, plus specific genealogical records and archives can be made in person at an individual county's Register of Deeds or the Nebraska Vital Records office.
1Outline of Nebraska Public Records Statutes | Nebraska Attorney General Doug Peterson. (n.d.). Nebraska Attorney General. Retrieved June 14, 2022, from <https://ago.nebraska.gov/public-records>
2United States Department of Justice. (n.d.). Freedom of Information Act: Learn. FOIA.gov. Retrieved June 14, 2022, from <https://www.foia.gov/about.html>
3Nebraska Department of Health and Human Services. (2022). Vital Records. Nebraska Department of Health and Human Services. Retrieved June 14, 2022, from <https://dhhs.ne.gov/pages/vital-records.aspx>
4SEARCHSYSTEMS SR LLC. (2022). Nebraska Public Records Search. SearchSystems.net. Retrieved June 14, 2022, from <https://publicrecords.searchsystems.net/United_States_Free_Public_Records_by_State/Nebraska_Public_Records/>
5Nebraska State Patrol. (2022). Criminal History Record Requests | Nebraska. Nebraska State Patrol. Retrieved June 15, 2022, from <https://statepatrol.nebraska.gov/services/criminal-history-record-requests#>
6Nebraska State Patrol. (2022). Nebraska Sex Offender Registry. Registry. Retrieved June 15, 2022, from <https://sor.nebraska.gov/Registry/>
7Nebraska Department of Correctional Services. (n.d.). Incarceration Record Search. Nebraska.gov. Retrieved June 15, 2022, from <https://dcs-inmatesearch.ne.gov/Corrections/COR_input.html>
8North Platte Post. (2022). Arrests. North Platte Post. Retrieved June 15, 2022, from <https://northplattepost.com/category/arrests>
9Nebraska Judicial Branch. (2022). Filing a Motion to Seal Juvenile Criminal Record. Nebraska Judicial Branch |. Retrieved June 15, 2022, from <https://supremecourt.nebraska.gov/self-help/court-records/filing-motion-seal-juvenile-criminal-record>
10Nebraska Legislature. (n.d.). Nebraska Revised Statue 43-2,108.05. Nebraska Revised Statutes. Retrieved June 15, 2022, from <https://nebraskalegislature.gov/laws/statutes.php?statute=43-2,108.05>
11Nebraska Legislature. (n.d.). Nebraska Revised Statue 29-403. Nebraska Revised Statues. Retrieved June 15, 2022, from <https://nebraskalegislature.gov/laws/statutes.php?statute=29-403>
12Hall County Sheriff's Department. (n.d.). Outstanding Arrest Warrants. Hall County, Nebraska. Retrieved June 15, 2022, from <https://www.hallcountyne.gov/content.lasso?page=7249>
13Wayne County Sheriff's Department. (n.d.). Active Warrant List. Wayne County, NE. Retrieved June 15, 2022, from <https://waynecountyne.gov/130/Active-Warrant-List>
14Nebraska Legislature. (n.d.). 29-4002. Nebraska Legislature. Retrieved June 15, 2022, from <https://nebraskalegislature.gov/laws/statutes.php?statute=29-4002>
15Nebraska State Patrol. (n.d.). Nebraska Sex Offender Registry. Nebraska Sex Offender Registry. Retrieved June 15, 2022, from <https://sor.nebraska.gov/>
16State of Nebraska. (2022). Nebraska Background Check Portal. Nebraska.gov. Retrieved June 15, 2022, from <https://www.nebraska.gov/clickBackground/>
17Nebraska Legislature. (2000, June 1). Untitled. Nebraska.gov. Retrieved June 15, 2022, from <https://www.nebraska.gov/subscriber/pdf/subscriberaggreementfordmv.pdf>
18Nebraska Judicial Branch. (2022). Branch Overview | Nebraska Judicial Branch. Nebraska Judicial Branch |. Retrieved June 15, 2022, from <https://supremecourt.nebraska.gov/branch-overview>
19What kinds of cases are handled in Federal Court? (n.d.). Northern District of Florida. Retrieved June 15, 2022, from <http://www.flnd.uscourts.gov/content/what-kinds-cases-are-handled-federal-court>
20United States Bankruptcy Court. (n.d.). Copy Request | DISTRICT OF NEBRASKA. United States Bankruptcy Court. Retrieved June 15, 2022, from <https://www.neb.uscourts.gov/copy-request>
21Nebraska Department of Health and Human Services. (2008, December 9). NEBRASKA ADMINISTRATIVE CODE. Nebraska.gov. Retrieved June 15, 2022, from <https://www.nebraska.gov/rules-and-regs/regsearch/Rules/Health_and_Human_Services_System/Title-174/Chapter-03.pdf>
22Nebraska State Patrol. (2023). Criminal History Reports. Retrieved June 2, 2023, from <https://www.nebraska.gov/apps-nsp-limited-criminal/requestor/view>
23Nebraska Department of Health & Human Services. (2023). Application for Certified Copy of Birth Certificate. Retrieved June 2, 2023, from <https://nevitalrecords-dhhs.ne.gov/CustomerInformation?certificateRequestId=241362>