Run a Nebraska arrest records and criminal records search through official state and county agencies for free.
Nebraska Statute 29-3523 and the Nebraska Public Records Law, under Nebraska statute §84-712.01, ensures that Nebraska criminal records remain public information in most circumstances. However, the process to obtain said records can be confusing and overwhelming due to an abundance of of subpar and/or misleading information.
In an effort to save searchers time, effort, and frustration, Nebraska Records Page provides a comprehensive list of criminal record custodians and arresting agencies allowing anyone to access:
Daily arrest logs and online inmate rosters
Criminal proceedings
Probation and parole information
Warrants information
Sexual predators
State or federal prisoners
In addition, this resource will guide searches through the process of performing a background check for personal or professional uses, contacting and bailing someone out of jail, and pardoning and setting aside criminal records. Last but not least, we'll discuss laws that protect citizens from unethical background check practices, criminal record discrimination, and discrimination of protected classes.
The Availability of Public Arrest Records & Criminal Records in Nebraska
According to Nebraska statute 29-3523, anyone can request a Record of Arrest and Prosecution (RAP sheet) for any individual, including information on both arrest and criminal records. These records can be requested through a variety of different ways both at the state and county level.
The Nebraska Statute 29-3523 states that certain information will not be viewable to the public, including the following.
Arrest cases where no charges are filed decided by the prosecution attorney will be removed from the public records repository after 1 year,
Cases of arrests where charges are not filed because of a completed diversion will be removed from public view after 2 years.
Arrest cases where charges were filed but dismissed by the court or following completion of drug, problem-solving court, or another approved court order program. These cases will be removed from public records immediately following the dismissal of the case.
Furthermore, juvenile records are unavailable, and other Nebraska arrest records may be sealed or expunged and will not be accessible to the public. Federal background check laws must be abided by, such as the Fair Credit Reporting Act (FCRA) and the Equal Employment Opportunity Commission (EEOC) that protect against discrimination.
In addition to a criminal and arrest records, our Nebraska public records guide reveals other types of records that are publicly available and how to find them, including records pertaining to marriage, divorce, birth, death, court dockets, and more.
A Comparison of What Shows Up on Criminal Records vs Arrest Records in Nebraska
While the terms arrest records and criminal records may be used interchangeably at times, it's important to know some significant differences as to what shows up on both. An arrest record will show that an individual was detained by police with the suspicion that they committed the crime, with no admission of guilt.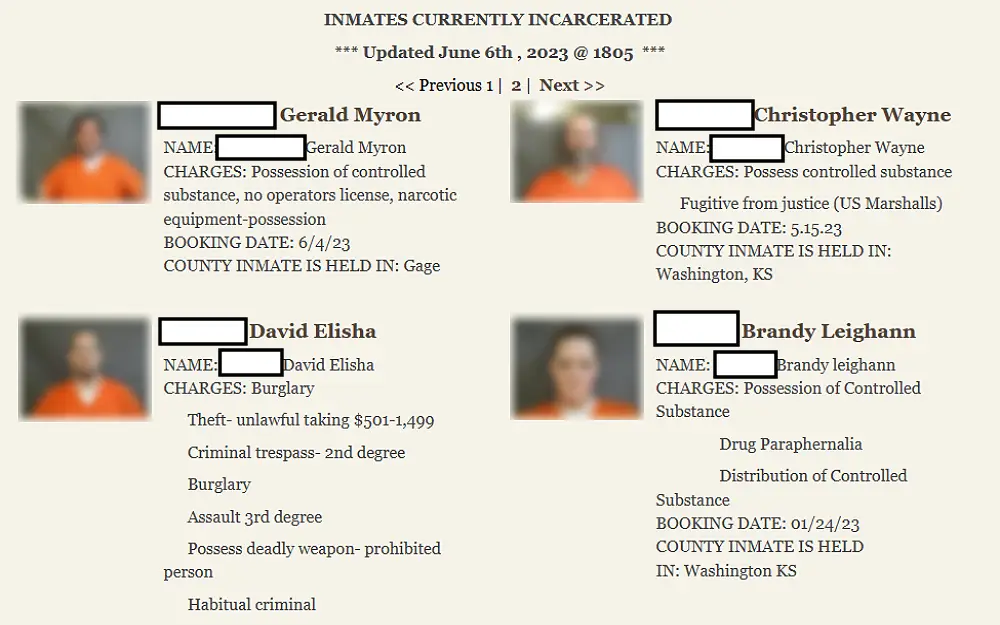 On the other hand, a Nebraska criminal record will show the entirety of the case, from the arrest to the specific charges and the outcome. Criminal records will also show any historical data.
Simply put, a criminal record will be all-inclusive, stating all valuable information regarding the individual and the case, whereas an arrest record only shows that someone was arrested.
How To View Nebraska Arrest Records & the Reason for Incarceration for Free
While there are various ways to obtain Nebraska arrest records, each lookup database requires the individuals' names (first or last name) and an estimation of which city or county they were arrested in.
The most helpful first step would be to check the county jail and sheriff's office information found in the table below, which contains a direct link to every county inmate lookup tool, if applicable, that updates daily arrests regularly.
Additionally, Nebraska State Patrol does have a state-wide search feature, and their information is provided to them by the specific counties in Nebraska, so there may be a slight delay in retrieving the information.
Utilize the Nebraska County Sheriff's Arrest Records Searches (NE Mugshots & Inmate Lookup)
The most effective way to look up current arrest reports and to understand what someone was arrested for is by contacting the county sheriff's office or utilizing the online inmate lookup service in the specific county jail where the offense took place.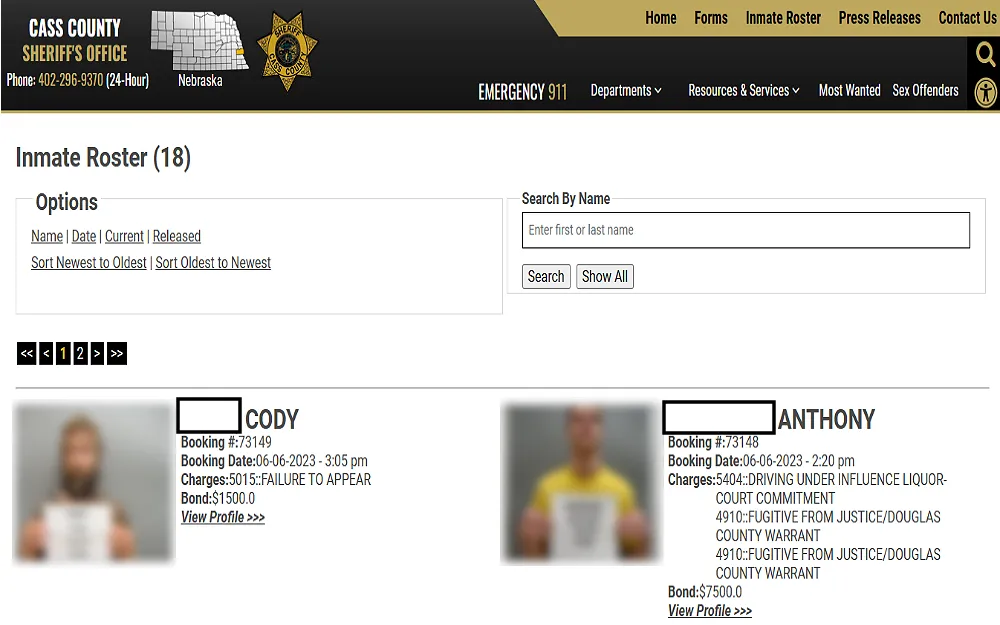 Below is a chart of all 93 counties in Nebraska. Because a lot of the counties are small, not all have an online directory inmate search tool for their county jail, so the chart instead provides a direct link to the Sheriff's office and their phone number.
When applicable, the county jail inmate search feature and the jail and sheriff's office phone numbers are marked in the table below. Some counties do not have a jail, and others use the same phone number for the detention center and sheriff's office. Finally, a few of the counties will also publicly post their mugshot database, which is also indicated on the chart.
If a county isn't seen in the table above, this is because according to the National Institute of Corrections, as of their most updated census, there are 63 county jails in 93 counties.1
How To Reach Out to Someone in Jail & Start the Bail Process
Knowing where to obtain contact information can be helpful for various reasons, from scheduling visitations to obtaining further information on bail. Each jail has a slightly different process for scheduling the visitation and differing rules to follow before and during the visit. Because of this, contacting each specific jail directly will be the most effective way to ensure all information is correct and up-to-date.
Use the county inmate link's in the above chart to navigate to the sheriff's office website. From that website, each county will have information on their visitation policies and whether they offer in-person or remote visits. When in doubt, try calling the sheriff's office phone number, also included in the county jails chart above.
Each jail in Nebraska may also have different procedures for bailing someone out, so contact the specific jail for bail information using the same above information. Or, for simplicity, hire an expert people finder, more commonly known as a bail bondsman to help navigate the processes.
How To Retrieve Nebraska Criminal Records (Search Criminal Records in NE Through State & County Agencies)
There are a few different ways to check if someone has a criminal record and retrieve the record, including paid and free options. Nebraska criminal records often are housed at local county courthouses and may be able to be obtained online for free or printed for a small fee. The Court of Clerks can be of assistance while looking for criminal records.
Furthermore, Nebraska has an all-inclusive incarceration search feature that provides current information on inmates, their charges and historical data.
As detailed below, criminal history records can also be requested directly through the Nebraska State Patrol for $15.50.
Run a Nebraska Criminal Record via the County's Clerk of Court
All of the different counties in Nebraska house a variety of older records at their Court of Clerks' office. While many counties are fairly small and do not have their own dedicated criminal history record search database online, contacting the office directly would be the best way to determine if someone was arrested and obtain a full historical data report.
For a full list of the different county Clerk's Offices, including both the physical address and phone number, look at the table below:
County Court Criminal Records Search
Courthouse Address
Phone Number
Adams County Clerk of Court
Suite 203 2nd Floor Courthouse
Hastings, NE 68902
402-461-7143
Antelope County Clerk of Court
Courthouse 501 Main, PO Box 45
Neligh, NE 68756
402-887-4508
Arthur County Clerk of Court
Arthur County Court, c/o Keith County Court, 511 North Spruce Street, Room 105
Ogallala, Nebraska 69153
308-284-3693
Banner County Clerk of Court
204 State St,
Harrisburg, NE 69345
308-436-5268
Blaine County Clerk of Court
145 Lincoln Avenue
Brewster, Nebraska 68821
308-547-2222
Boone County Clerk of Court
222 South 4th Street
Albion, Nebraska 68620
402-395-6184
Box Butte County Clerk of Court
515 Box Butte Avenue #100
Alliance, NE 69301
308-762-6800
Boyd County Clerk of Court
Box 396 Thayer Street
Butte, Nebraska 68722
402-775-2211
Brown County Clerk of Court
148 West 4th Street
Ainsworth, Nebraska 69210
402-387-2864
Buffalo County Clerk of Court
1512 Central Ave
Kearney, Nebraska 68848
308-236-1229
Burt County Clerk of Court
111 N 13th Street, Suite 11
Tekamah, NE 68061
402-374-2905
Butler County Clerk of Court
451 N 5th St
David City, NE 68632
402-367-7460
Cass County Clerk of Court
Cass County Courthouse, 346 Main. #303, Room 201
Plattsmouth, NE 68048
402-296-9339
Cedar County Clerk of Court
2nd Floor, 101 S Broadway Ave
Hartington, NE 68739
402-254-6957
Chase County Clerk of Court
921 Broadway St
Imperial, Nebraska 69033
308-882-7519
Cherry County Clerk of Court
365 N Main St #11
Valentine, NE 69201
402-376-1840
Cheyenne County Clerk of Court
1000 10th Avenue, PO Box 217
Sidney, NE 69162-0217
308-254-2814
Clay County Clerk of Court
111 W Fairfield St
Clay Center, NE 68933
402-762-3595
Colfax County Clerk of Court
411 East 11th Street
Schuyler, NE 68661
402-352-8506
Cuming County Clerk of Court
200 S Lincoln Rm 200
West Point, NE
402-372-6004
Custer County Clerk of Court
604 Heritage Drive
Broken Bow, NE 68822
308-872-2121
Dakota County Clerk of Court
1601 Broadway
Dakota City, NE 68731
402-987-2114
Dawes County Clerk of Court
451 Main Street
Chadron, Nebraska 69337
308-432-0116
Dawson County Clerk of Court
700 North Washington Street, Room E
Lexington, NE. 68850
308-324-4261
Deuel County Clerk of Court
718 3rd St
Chappell, NE 69129
308-874-2909
Dixon County Clerk of Court
302 W 3rd St
Ponca, NE 68770
402-755-5604
Dodge County Clerk of Court
428 N Broad
Fremont, NE 68025
402-727-2780
Douglas County Clerk of Court
300 Hall of Justice, 1701 Farnam Street, 3rd Floor
Omaha, NE 68183
402-444-7018
Dundy County Clerk of Court
112 W 7th Ave
Benkelman, Nebraska 69021
308-423-2374
Fillmore County Clerk of Court
900 G Street
Geneva, NE
402-759-3811
Franklin County Clerk of Court
405 15th Ave,
Franklin, NE 68939
308-425-6202
Frontier County Clerk of Court
1 Wellington St
Stockville, NE 69042
308-367-8629
Furnas County Clerk of Court
912 R St
Beaver City, NE 68926
308-268-4025
Gage County Clerk of Court
612 Grant Street, Room 11
Beatrice, NE 68310
402-223-1332
Garden County Clerk of Court
611 Main St
Oshkosh, NE 69154
308-772-3924
Garfield County Clerk of Court
250 S 8th Ave
Burwell, NE 68823
308-346-4123
Gosper County Clerk of Court
507 Smith Ave
Elwood, NE 68937
308-785-2611
Grant County Clerk of Court
105 Harrison St,
Hyannis, Nebraska 69350
308-458-2433
Greeley County Clerk of Court
101 South Kildare Street
Greeley, NE 68842
308-428-2705
Hall County Clerk of Court
111 West 1st Street, Suite #1
Grand Island, Nebraska 68801
308-385-5135
Hamilton County Clerk of Court
1111 13th Street
Aurora, NE 68818
402-694-6188
Harlan County Clerk of Court
706 W 2nd St
Alma, NE 68920
308-928-2173
Hayes County Clerk of Court
505 Troth Street
Hayes Center, NE 69032
308-286-3315
Hitchcock County Clerk of Court
229 E D St,
Trenton, NE 69044
308- 334-5383
Holt County Clerk of Court
204 N 4th St #3,
O'Neill, NE 68763
402-336-2840
Hooker County Clerk of Court
102 N Cleveland Ave,
Mullen, NE 69152
308-546-2249
Howard County Clerk of Court
612 Indian Street, Suite #1
St. Paul, NE 68873
308-754-4192
Jefferson County Clerk of Court
411 4th Street
Fairbury, NE 68352
402-729-6807
Johnson County Clerk of Court
351 Broadway,
Tecumseh, NE 68450
402-335-6300
Kearney County Clerk of Court
424 N Colorado
Minden, NE 68959
308-832-1742
Keith County Clerk of Court
511 North Spruce St, Room 202
Ogallala NE  69153
308-284-3849
Keya Paha County Clerk of Court
310 Courthouse Dr.
Springview, NE 68778
402-497-3791
Kimball County Clerk of Court
114 East 3rd Street Suite 6
Kimball, NE 69145
308-235-2241
Knox County Clerk of Court
206 Main St,
Center, NE 68724
402-288-5606
Lancaster County Clerk of Court
575 S 10th Street, 2nd Floor
Lincoln, NE 68508
402-441-7291
Lincoln County Clerk of Court
301 N. Jeffers St,
North Platte, NE 69101
308-534-4350
Logan County Clerk of Court
317 Main St #8,
Stapleton, NE 69163
308- 636-2311
Loup County Clerk of Court
408 4th St,
Taylor, NE 68879
308-942-6035
Madison County Clerk of Court
1313 North Main Street,
Madison NE 68748
402-454-3311
McPherson County Clerk of Court
500 N Anderson St,
Tryon, NE 69167
308-587-2363
Merrick County Clerk of Court
1510 18th St #1,
Central City, NE 68826
308-946-2461
Morrill County Clerk of Court
606 L St,
Bridgeport, NE 69336
308-262-1261
Nance County Clerk of Court
209 Esther St,
Fullerton, NE 68638
308-536-2675
Nemaha County Clerk of Court
1824 N Street, Courthouse Ste 302
Auburn, NE 68305
402-274-3008
Nuckolls County Clerk of Court
150 Main St,
Nelson, NE 68961
402-225-2371 #4
Otoe County Clerk of Court
1021 Central Avenue, Room 109
Nebraska City, NE 68410
402-873-9575
Pawnee County Clerk of Court
625 6th Street.
Pawnee City. Nebraska. 68420
402-852-2963
Perkins County Clerk of Court
200 Lincoln Ave, PO Box 222
Grant, NE 69140
308-352-7530
Phelps County Clerk of Court
715 5th Ave,
Holdrege, NE 68949
308-995-6561
Pierce County Clerk of Court
111 W. Court St., Room 12
Pierce, NE 68767
402-329-4335
Platte County Clerk of Court
2610 14th Street
Columbus, NE 68602
402-563-4906
Polk County Clerk of Court
400 Hawkeye Street
Osceola, NE 68651
402- 747-5371
Red Willow County Clerk of Court
502 Norris Avenue
McCook, NE 69001
308-345-1904
Richardson County Clerk of Court
1700 Stone St, Room 302
Falls City, NE 68355
402-245-2023
Rock County Clerk of Court
400 State St,
Bassett, NE 68714
402-684-3933
Saline County Clerk of Court
204 South High Street
Wilber, NE 68465
402-821-2823
Sarpy County Clerk of Court
1210 Golden Gate Drive, Suite 3141
Papillion, NE 68046-3087
402-593-2267
Saunders County Clerk of Court
387 N Chestnut St, Suite 6
Wahoo, NE 68066
402-443-8113
Scotts Bluff County Clerk of Court
Court House – 2nd Level, 1725 10th Street
Gering, NE 69341
308-436-6641
Seward County Clerk of Court
261 S 8th St.
Seward, Nebraska 68434
402-643-3341
Sheridan County Clerk of Court
303 E 2nd St,
Rushville, NE 69360
308-327-5654
Sherman County Clerk of Court
630 O St,
Loup City, NE 68853
308-745-1513
Sioux County Clerk of Court
PO Box 158
Harrison, NE 69346
308-668-2443
Stanton County Clerk of Court
804 Ivy St,
Stanton, NE 68779
402-439-2221
Thayer County Clerk of Court
225 N. 4th St., Room 302
Hebron, NE 68370
402-768-6116
Thomas County Clerk of Court
503 Main St
Thedford, NE 69166
308-645-2261
Thurston County Clerk of Court
106 5th St
Pender, NE 68047
402-385-3318
Valley County Clerk of Court
125 S 15th Street
Ord, NE 68862
308-728-3831
Washington County Clerk of Court
1555 Colfax St,
Blair, NE 68008
402-426-6899
Wayne County Clerk of Court
510 Pearl Street, Suite 6
Wayne, NE 68787
402-375-2260
Webster County Clerk of Court
621 N Cedar St,
Red Cloud, NE 68970
402-746-2716
Wheeler County Clerk of Court
3rd & Main
Bartlett, NE 68622
308-654-3235
York County Clerk of Court
510 Lincoln Avenue, Room 211
York, Nebraska 68467
402-362-4925
How To Perform a Statewide Criminal Record Search Through Nebraska's Judicial Branch (Justice Search Feature)
Running statewide criminal records searches in Nebraska is an effective way to check every county at once and the Nebraska Judicial Branch has a search feature that provides valuable information, including:
Case Details: The date, what the case was about, who the judge was, and what the trial outcome was.
Party Listing: This information includes the plaintiff, defendants, and their attorneys, if applicable.
Court Cost Information: Any associated fees will also be included.
It's important to note that there is a $15.00 fee before you can even access the search feature, and searches with no results still require payment. Also, there is a 24-hour time lag between when a new case is entered into the system to when it appears on the search platform.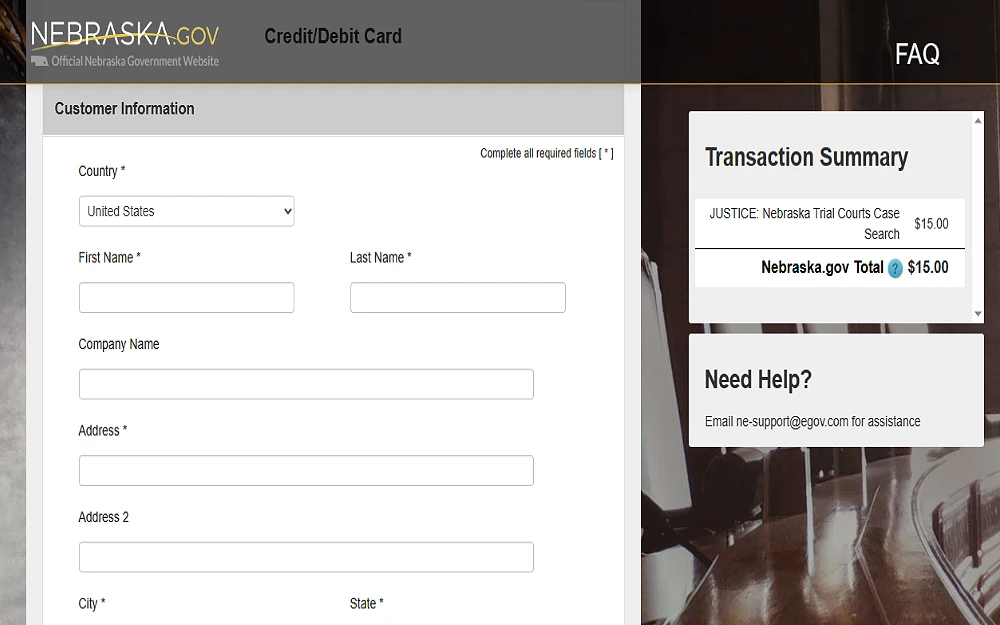 To search for a court case in Nebraska using the JUSTICE court case search system, follow these steps:
Navigate to the Nebraska JUSTICE Search- One-Time Case Search page and agree to the Terms and Conditions of the service to begin the search.
Enter payment information.
Search for the individual by their name. It's not recommended to narrow the search by other criteria unless more than 30 matching cases populate. If more than 30 show up, the search will be performed again, and there will not be a second charge.
Once the search has been completed, someone will have access to all the case details resulting from the search for three calendar days.
Requesting & Obtaining Copies of Criminal Records in Nebraska (NE)
The best way to obtain Nebraska criminal records would be to request a copy directly through the Nebraska State Patrol under Nebraska Statute 29-3523. These searches provide a lot of valuable information, including Nebraska arrest records where fingerprints were taken. Current arrests that occurred in other states will not show up.
Individuals using this method will pay a fee of $15.50. This request can be made online through the state patrol criminal history reports page and unlike some search options, requires you to identify yourself before the search. These requests can also be done in person, or via mail by filling out the required form.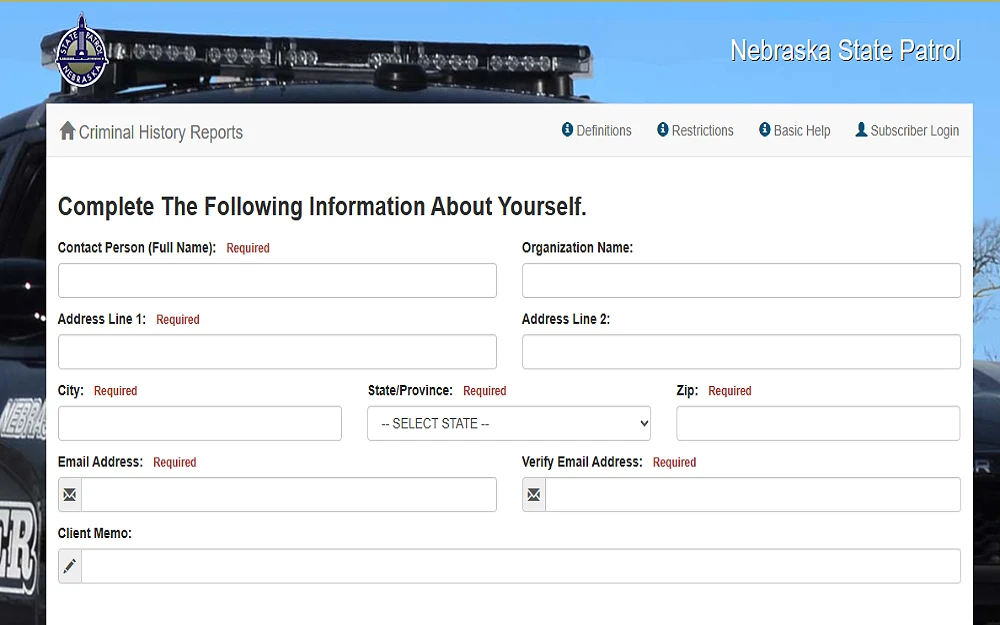 It's important to be aware that, when requesting records through the state patrol, more information is required of the person of interest, including the first and last names, date of birth, sex, and race. While not required, the social security number, driver's license number, and place of residency will help expedite the results.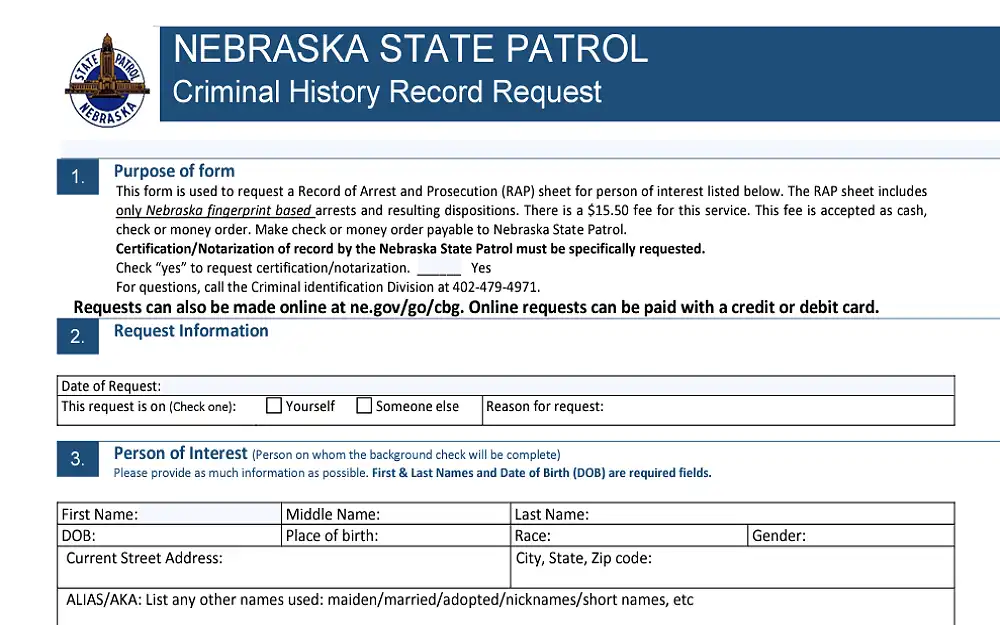 Criminal records can also be requested on the county level through the Clerk of Court or sheriff's department. Utilize the court and sheriff's office numbers in the tables above to contact the specific county for further information.
How To Retrieve Probation or Parole Information in Nebraska
While there is no specific probation search or parole database in Nebraska, there are various methods to obtain this information. It's important to recognize some notable differences between probation and parole. Probation, also known in Nebraska as post-release supervision, is a sentence for someone accused of minor offenses or misdemeanors.2 This occurs after someone has served little to no time in jail.
On the other hand, parole is designated for those who have committed major offenses. Parole is part of the initial sentencing and is often viewed as an early release from prison. Both are also viewed as a rehabilitation back into civilian life. The Nebraska Board of Parole oversees parole and publishes an annual report on everything related to parole that happened over the year.3
To illustrate just how many people are on probation and parole and how many records are available, the following image shows the combined total of probationers and parolees in Nebraska, along with their ethnicities. Furthermore, these totals are also compared to the number of individuals on community supervision (including probation and parole) in other states across the United States.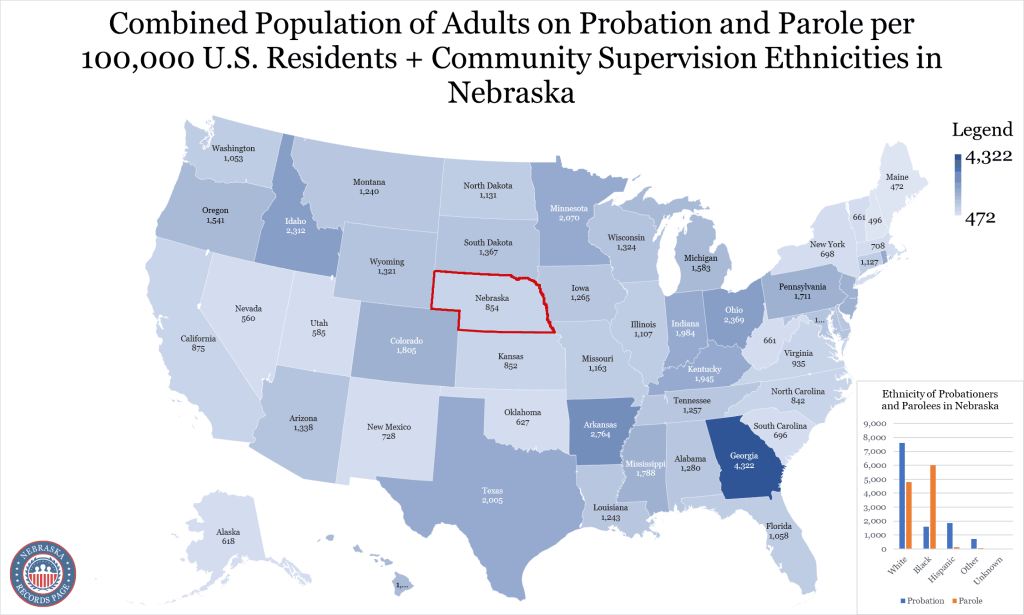 Utilizing the Nebraska Department of Correctional Services incarceration records free search would be an effective way to see if someone is on parole or post-release supervision in Nebraska. A few additional methods to take are running a background check on the individual, checking criminal records through the county courthouse for a history of offenses, or calling parole or probation offices.
Finally, looking for a federally charged inmate could be worth checking the Federal Bureau of Prisons as it shows historical information for anyone who went to federal prison. While it does not clearly state the inmate is on parole, it will show if they were recently released, which may be an indicator they are on parole.
How Do I Get a Criminal Record Pardoned or Set-Aside in Nebraska?
Nebraska does not have a statutory expungement provision. That being said, the only way to expunge a Nebraska arrest record is if the arrest resulted from a law enforcement error. When attempting to expunge the arrest record, the individual must file a petition with the District Court county where the arrest occurred.
Criminal charges in Nebraska will always appear on a criminal record but can be "pardoned" or "set aside". A pardon is a formal forgiveness that will restore lost civil rights after a felony conviction, such as the right to vote, hold public office, be a juror, receive a passport, and more, that is granted by the Board of Pardons.
Pardons are typically only granted three years after misdemeanor cases and ten years later for those on the felony registry, which includes probation or parole time. It's important to note that there must be no further convictions or contact with law enforcement during this time.
To request a pardon on a case, there are clear directions and steps that must be followed offered through the Board of Pardons. Here are the materials that are needed for consideration:
Complete the pardon request application, which is found on the Board of Pardons website.
Obtain three or more reference/character letters from citizens of the community where the applicant has lived.
Court documents must accompany the application, which includes the sentencing order, probation order, release from probation order, and a receipt or letter from the sentencing court showing all fines have been paid.
Sign, date, and have the application notarized before mailing the application to the Board of Pardons office.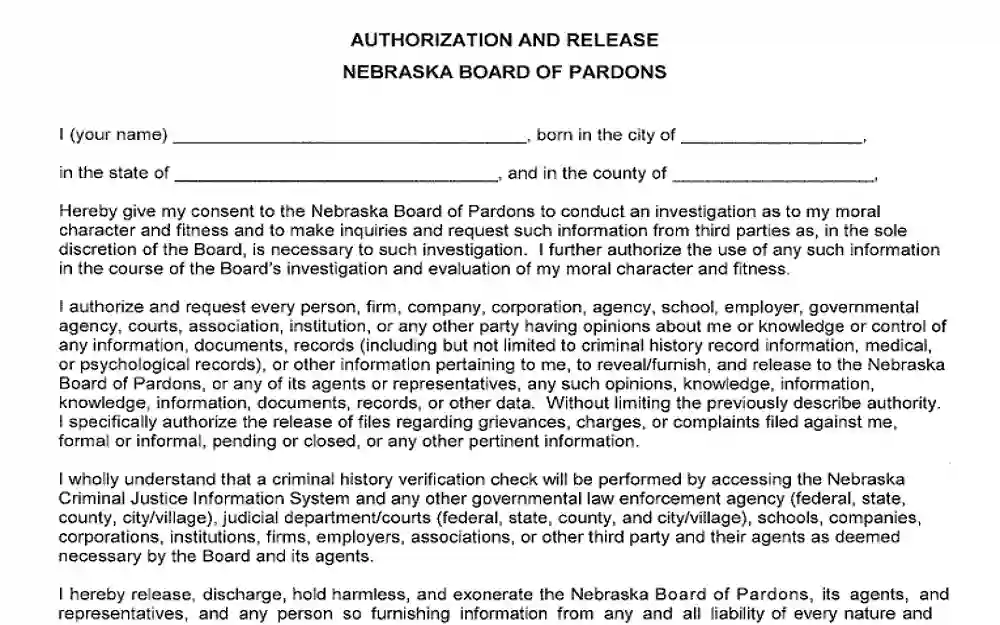 There is no guarantee of the case outcome, and the process can take several months to several years to determine whether someone will be granted a hearing.
A set-aside means the conviction will be voided by the same judge who originally provided the sentence in the criminal case and is overseen by the Nebraska Judicial Branch. These decisions are decided solely by the judge. Someone will only be eligible for their conviction to be set aside if:
Probation terms, if applicable, were completed;
Community service sentencing, if applicable, was completed;
Sentenced to 1 year or less in jail and completed sentence; OR
The sentence was a fine only, and the fine was paid.
The forms required to petition a set aside can be mailed to or taken to the Clerk of Court where the conviction occurred.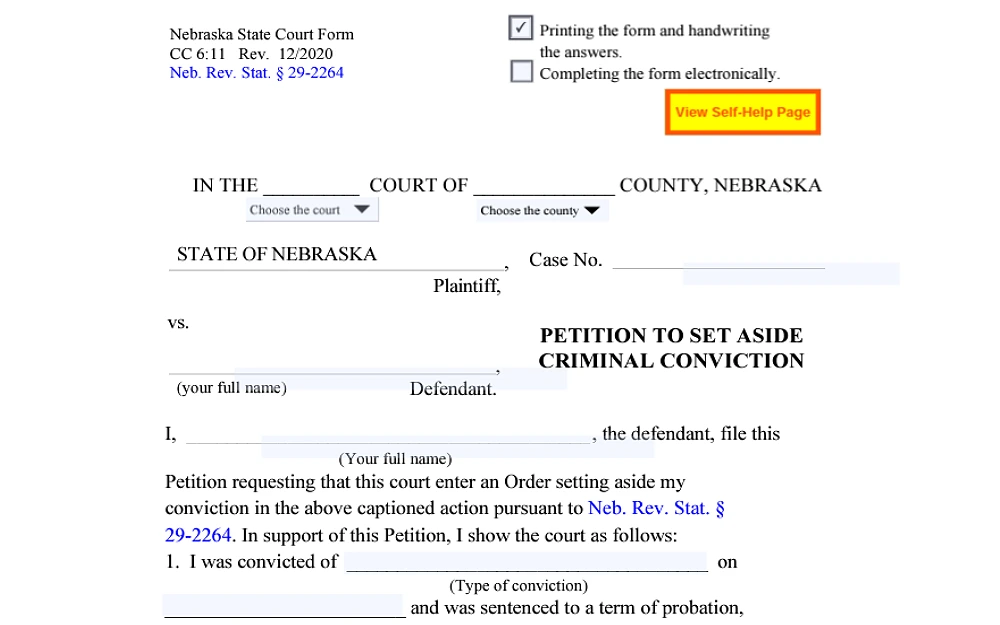 Being eligible does not guarantee the judge will approve the set aside. The charge will still show up on criminal history and background checks but will indicate it has been set aside.
Specific instructions and requirements exist for someone looking to get their conviction set aside. Because many courts have specific local rules, it's best to contact the Clerk of the District Court or County Court in your county, which can also be found in the Clerk of Courts table, to find out if there are any specific county rules.
Here is a list of what information is needed for someone requesting a set-aside:
The date of the offense
Criminal charges
The outcome of the charge (guilty or not guilty)
Sentencing information (probation, fines, jail)
Whether the sentence was completed
Prisoner Records: Steps To Find Someone in a Nebraska State Prison or Federal Prison
The Nebraska Department of Correctional Services has a complete public Incarceration Records Search option to see what state prison someone is in as well as valuable information regarding their charges and current status.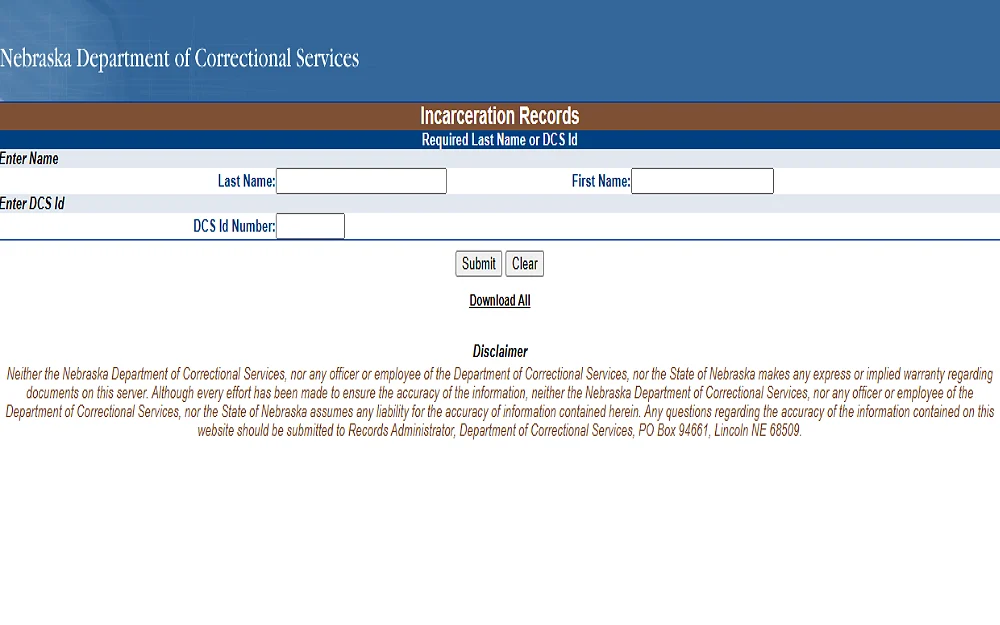 Alongside showing charge information, the search provides a full breakdown of sentencing, offenses, and when they will be/were released. Although the search does supply a lot of valuable information, contacting the specific state prison the individual is at may provide further information, specifically visitation and bond information. There are nine state-run prisons in Nebraska that are run by the Nebraska Department of Correctional Services.
While Nebraska does not have a federal prison within the state, searching through the Bureau of Prison inmate search would be the best way to find someone in a federal penitentiary or who was convicted of a federal crime. This is useful information because an individual convicted of a federal crime in Nebraska will be transferred to a surrounding state's federal prison. To find someone through the Bureau of Prison, search by their prison identifying number or first or last name.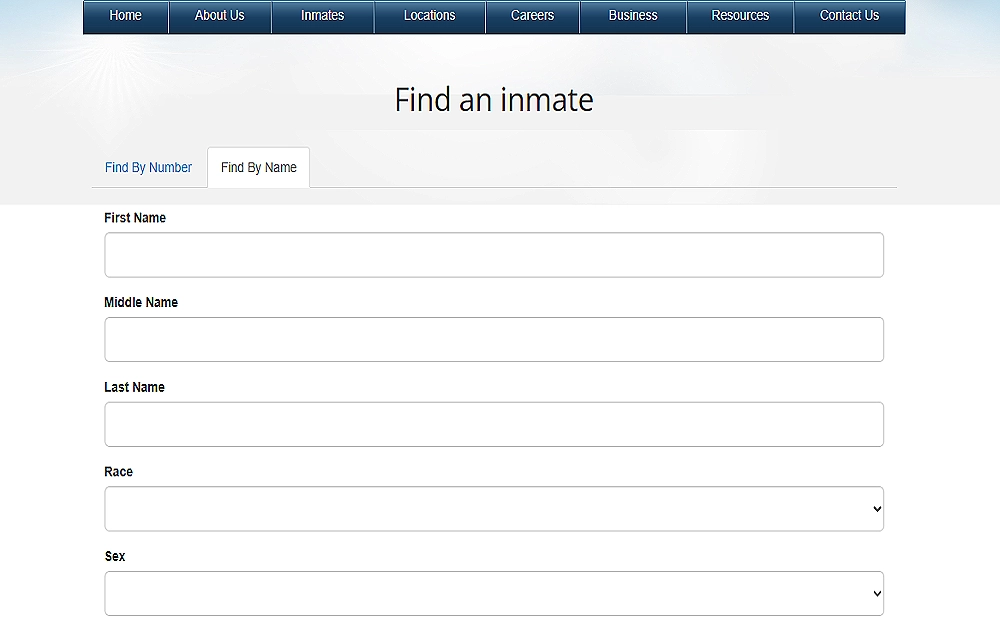 How To Run a Nebraska Warrant Search: Find Out If You or Someone Else Has a Warrant
Nebraska does not have a statewide warrant list, so the best way to search for who has an active warrant out for their arrest is to contact the specific county.
The Nebraska Department of Correctional Services inmate search does provide information if someone is on the run, and their current status will be listed as "Absconder." It's noteworthy to mention that someone with the status of "absconder" will not have an active warrant out for their arrest until attempts to reconnect with the offender have failed.
When looking for warrant information for a specific county in Nebraska, simply search "[County Name] warrant search" and navigate to the official county website for the given region. If applicable, there will be a warrant search in the menu that can be searched online, but if not, navigate to the contact page to call the county sheriff's office. The sheriff's office phone number and website can also be found in the county jail table above.
Federal warrants are issued by the U.S. Marshals and housed under the Warrant Information System (WIN) but can not be accessed by the public.
Nebraska Background Checks (Explained)
Knowing the purpose and how to utilize background checks can be extremely helpful as they can be used for personal and professional reasons such as employment, firearm purchases, and sometimes residency. They may also be used for adoption applications and security clearance checks and may be used by both local and federal agencies.
For personal uses, anyone can run a background check on any individual to check for Nebraska criminal records, employment history, addresses, and more. It is important that the information found can not be used for harassment, stalking, hate crimes, etc. Most personal background checks also do not require consent from the individual.
Personal background checks can be obtained through court record searches and state police searches, and it's also possible to use third-party services to check many different counties and states at once.
Professional background checks must abide by all federal and state laws and require consent from the person being investigated. These are used to verify personal information for a variety of different reasons, from employment, residency, and adoptions, and will search criminal, education, and credit histories and social media.
All professional background checks must abide by all federal and state laws. These include the Fair Credit Reporting Act (FCRA), which states that the report cannot be provided to anyone that doesn't have a purpose.4 Furthermore, the Equal Employment Opportunity Commission (EEOC) further protects individuals against discrimination when records are obtained for professional purposes.5
Furthermore, there are two primary types of background checks when it comes to professional uses and they're usually referred to as Level 1 and Level 2 background checks. Level 1 background checks are searched by name or name and social security number and will only look at local records such as state or county records.
Level 2 background checks are conducted with fingerprints and are more intensive, looking at national records and providing historical information sourced from the FBI.
In most cases, level 2 background checks are more accurate because they are searched by fingerprint instead of just by name and are a comprehensive background check providing information on personal and criminal information from across the nation such as previous addresses, employers, marital status, credit history, educational and professional certifications, along with misdemeanors, felonies, pending criminal cases, civil judgments, arrests, sex crimes, and prison or jail records.
Level 2 background checks and beyond are used for employment involving at-risk populations such as those with older people or children, healthcare professionals, and some C-level positions such as chief executive officers and chief operating officers.
Nebraska Records of Arrest and Prosecution reports are available for any individual that had a fingerprint-based arrest. These criminal history reports cost $15.50. It is important to know that this search will not provide information on federal sanctions, address changes, employment history, credit reports, sex offender registry, or residence history.
How To Use & Search the Nebraska Sex Offender Registry
Nebraska has a state-wide sex offender registry which the Nebraska Sex Offender Registry Division of Investigative Services oversees. Under the current statute, Nebraska Statute, Article 40, Section §29-4001 through section §29-4013, also known as the Sex Offender Registration Act, requires all individuals, except juveniles, convicted of specific crimes, listed on the FAQ page, to be registered on the public repository.6
The registry can be searched by:
Name: Inputting the First or last name;
Region: Searching for those registered by county, city, or zip code;
Location: Located within a 1-3 radius of a specific location such as home, office, school, etc.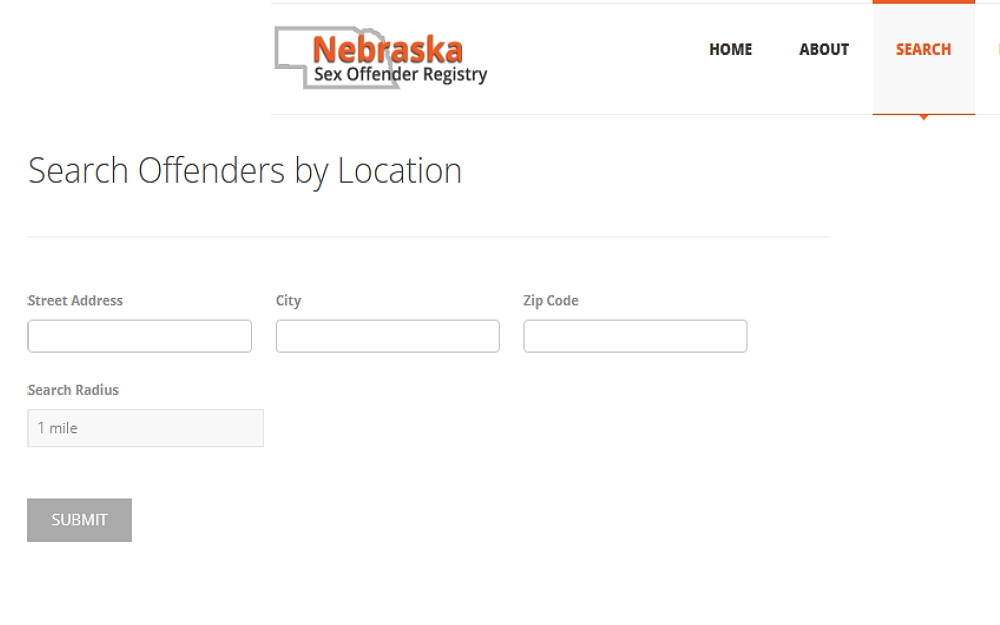 The registry will provide all valuable information on the individual, including their demographics, conviction, what vehicles they drive, any schools they attend, if applicable, and their address. There is also an option to submit an email address to be notified of any updates regarding that specific individual.
For a large overview of the entire United States, there is also the option to search the national sex offender registry through the United States Department of Justice's National Sex Offender public website.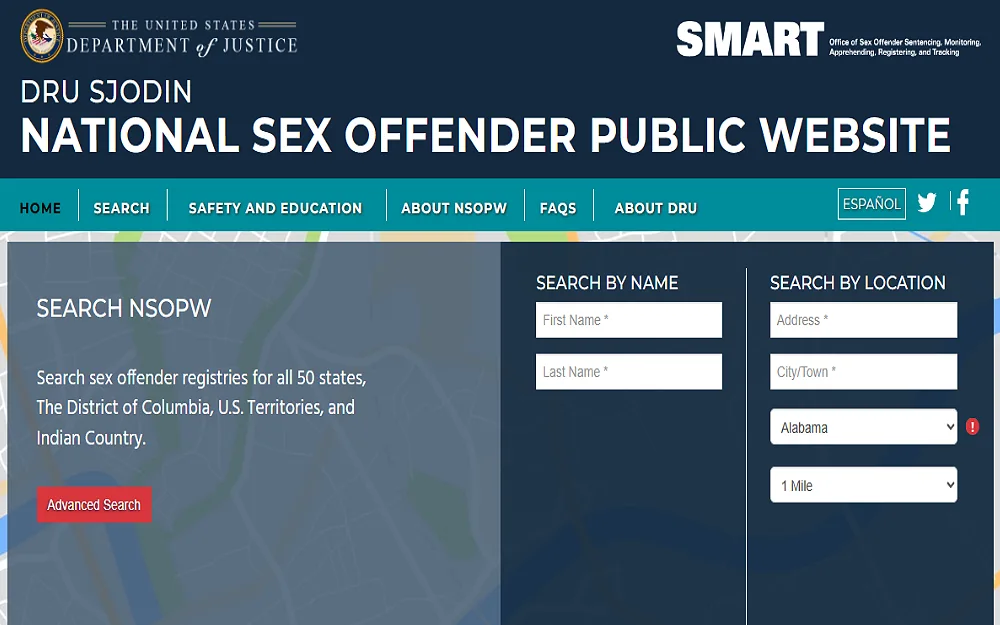 An Overview of Nebraska Laws on Criminal Records & Arrest Records
Nebraska Statute 29-3523, states that criminal records are public records, and anyone has access to this specific data, except under special circumstances such as juvenile records or those that have been dismissed.
Furthermore, under the Nebraska Statute §84-712.01, the Nebraska Public Records Law states there are no restrictions on the use of the records, and all documents belonging to any government access are accessible by the public, except with explicitly stated otherwise.
Nebraska Revised Statute 48-202 protects potential employees by prohibiting employers from requiring an applicant to disclose their criminal history or record until it's determined the applicant meets the minimum qualifications for employment. It's important to remember that this statute does not apply to certain careers, such as law enforcement and schools.
For personal criminal record searches, it's permissible to use background checks without someone's prior consent. However, for professional searches, such as those for property management, licensing, or jobs, they must abide by all state, local, and federal laws, including EEOC and FCRA.
The Equal Employment Opportunity Commission (EEOC) protects individuals from discrimination. It ensures everyone is given the same opportunity and held to the same standards regardless of race, age, disabilities, etc.7
In addition, the Fair Credit Reporting Act (FCRA) continues to protect individuals when background information is run on them by requiring the applicant to give written permission for the background check, requiring the employer to disclosure what information was used to decide on the employment, and that the applicant can be given a copy of the consumer report if desired.
This free guide outlines everything important to know when wanting to obtain background information on someone, utilizing Nebraska's various online and in-person resources to obtain info such as Nebraska arrest records. This guide will ensure the most accurate and up-to-date results for Nebraska criminal records will be acquired.
1National Institute of Corrections. (2020). Nebraska 2020. 2020 National Averages. <https://nicic.gov/resources/nic-library/state-statistics/2020/nebraska-2020>
2State of Nebraska Judicial Branch. (2016). § 6-1904. Post-release supervision. Article 19: Nebraska Court Rules for Probation Practices. <https://supremecourt.nebraska.gov/supreme-court-rules/chapter-6-trial-courts/article-19-nebraska-court-rules-probation-practices/%C2%A7-6-2>
3Nebraska Board of Parole. (2022). Division of Parole Supervisor Annual Report. <https://parole.nebraska.gov/sites/parole.nebraska.gov/files/doc/Annual%20Report%20FY%202022_3.pdf>
4Federal Trade Commission. (2023). Fair Credit Reporting Act. Statutes. <https://www.ftc.gov/legal-library/browse/statutes/fair-credit-reporting-act>
5Wikipedia. (2023). Equal Employment Opportunity Commission. <https://en.wikipedia.org/wiki/Equal_Employment_Opportunity_Commission>
6NEBRASKA LEGISLATURE. (2023). Nebraska Revised Statute 29-4001. <https://nebraskalegislature.gov/laws/statutes.php?statute=29-4001>
7U.S. Equal Employment Opportunity Commission. (2023). Overview. <https://www.eeoc.gov/overview>
8Gage County Sheriff's Office. (n.d.). Sample of Arrest Records in Gage County. Retrieved June 6, 2023, from <https://gagecountysheriff.us/pages.do?acid=2377&aid=4310>
9Cass County Sheriff's Office. (n.d.). Inmate Mugshot Database in Cass County. Retrieved June 6, 2023, from <https://www.casscountysheriffne.org/roster.php>
10Nebraska Government Website. (n.d.). Nebraska Justice Search. Retrieved June 6, 2023, from <https://securecheckout.cdc.nicusa.com/Checkout/?token=3e5b2b9a-010d-4a97-bc5c-a520009f615e>
11Nebraska State Patrol. (n.d.). Online Application Request for Criminal History Record. Retrieved June 6, 2023 <https://www.nebraska.gov/apps-nsp-limited-criminal/requestor/view>
12Nebraska State Patrol. (n.d.). Criminal History Record Request Form. Retrieved June 6, 2023 <https://statepatrol.nebraska.gov/sites/default/files/752_criminal_history_record_request-fillable_form.pdf>
13State of Nebraska Board of Pardons. (n.d.). Authorization and Release Form. Retrieved June 6, 2023, from <https://pardons.nebraska.gov/sites/pardons.nebraska.gov/files/doc/Authorization%20and%20Release%20Pardons%20Board%20Application.pdf>
14State of Nebraska Judicial Branch. (n.d.). Petition to Set Aside Application Form. Retrieved June 6, 2023, from <https://supremecourt.nebraska.gov/sites/default/files/CC-6-11.pdf>
15Nebraska Department of Correctional Service. (n.d.). Incarceration Records Database. Retrieved June 6, 2023, from <https://dcs-inmatesearch.ne.gov/Corrections/COR_input.htm>
16Federal Bureau of Prisons. (n.d.). Federal Crime Inmate Search Tool. Retrieved June 6, 2023, from <https://www.bop.gov/mobile/find_inmate/byname.jsp>
17Nebraska Sex Offender Registry. (n.d.). Nebraska Sex Offender Search Tool. Retrieved June 6, 2023, from <https://sor.nebraska.gov/Registry/LocationSearch>
18The United States Department of Justice. (n.d.). National Sex Offender Public Website. Retrieved June 6, 2023, from <https://www.nsopw.gov/>